---
Photographs taken around Danbury, by John Bowen, mainly taken in 2002.



Road sign as you approach Danbury on the A414 from Chelmsford. (2002)
---
Eve's Corner shops.
Photograph take with back to the Bank. (2002)
---
Eve's Corner looking towards the Bank (left) Hardware shop then the pink Antique shop & "Tea on the Green" resturant. (2002)
---
Looking at the Old Workhouse (until 1832, left) and the Dentist in early spring 2002.
---
Spring daffodils opposite the Old Workhouse (above).
The Danbury Society have been planting daffodils in the roadside verges for the past 10 years. They herald spring and provide colour. (2002)
---
Bluebells in Blakes Wood. There are acres of these Bluebells - the smell can be overpowering on occasions. (2002)
---
Lingwood Common taken by Danbury Society Member, Janet Reid. (2002)
---
Danbury Common.
Photograph taken looking towards the house called "Cotswold" and "Blackmore House" which used to be the "Black Boy" public house but it was closed in 1910 as the Magistrates felt that there were too many public Houses in Danbury. The pond was dug quite recently a little way from the old pond. (2002)
---
Art Show held for the past 25 years in the Village Hall.
The Late Maurice Hawker (past Organiser, centre) while Dr, Rev Blythe and his Wife, Elisabeth are looking at a picture. (2002)
---
Flowering shrubs - Rhododendrons & Azalea.
In the distance behind the shrubs are trees which were partly destroyed by the hurricane in 1987. (2002)
The left hand Rhododendron has recently been identified as being called "Lady Thistleton Dyer" after the Wife of the Manager of Kew Garden arond 1880. Information provided by David Morris, Park Ranger, May 2007.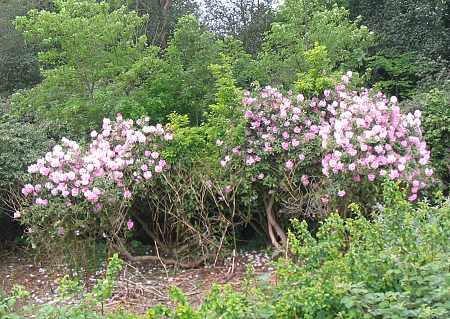 These are opposite the photograph above and a different species. May 2007.
---
Early Autumn in the Lakes.
Picture of a pond above the top lake. The trees are mainly Beech, quite a rare tree in Essex. (2002)
---
The Middle Lake in Autumn. Note the Terns wheeling around in search of fish. (2002)
---
Lower Lake in Winter.
Picture taken from the same spot as the picture above but looking down at the Lower Lake. (2002)
---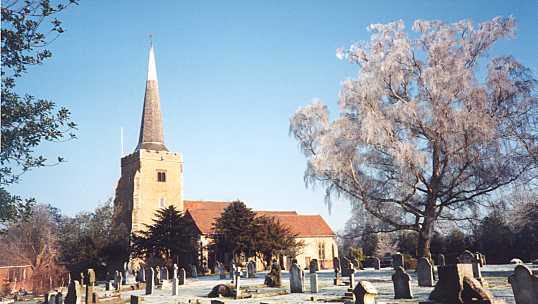 St John's Church - Winter. The Silver Birch tree is covered by hoare frost. Unfortunately, this tree became dangerous and had to be felled in May, 2004. Another tree will be planted to replace it. (2002)
---
St John's Church - Deep Winter. This photograph is taken of the Hitchcock Gate in 2002, so called as it was presented to the Church by the family of Hitchcocks who are now buried to the left of the gate to the churchyard. Written in the gate are the words "Jesus said I am the way". From St John, 14, Verse 6.
---
�Copyright of the Danbury Society, 2015
Last revised:- 23nd September 2015